The fees listed below are subject to change. 
Comments from our CAUCE 2022 delegates:
As someone new to the field, this conference provided a good introdution to the CE landscape — 2022 delegate 
The session are always relevant, and the speakers are usually inspiring by sharing the work they are doing — 2022 delegate 
Fees and registration
| | | | |
| --- | --- | --- | --- |
| | CAUCE Member | Non-Member | Graduate Student* |
| Early Bird (save $$$) | $695 | $825 | $350 |
| Early Bird Group of 5 (save $75/pp) | $3100 | N/A | N/A |
| Regular Fees (after April 12) | $800 | $930 | $400 |
| One-Day Fee (May 17th or 18th) | $400 | N/A | N/A |
| CAUCE Honorary Member | $250 | N/A | N/A |
| Delegate Guest (Add-on) | $100 | $100 | $100 |
| Award Luncheon Guest (Add-on) (May 17) | $75 | $75 | $75 |
| Social Events Guest (Add-on) (May 17 & 18) | $50 | $50 | $50 |
Early bird rates, including the group of five, are available until April 5, 2023. Fees are subject to GST. If you are interested in group rates, please read the information below.
The last date for online registration is May 10, 2023. If you wish to register after May 10th, please contact the Secretariat.
*This rate is for graduate students who are currently registered in a graduate program and not working full-time.
Our group rates allow you to send more of your staff to CAUCE 2023 at a discount! Before registering, note that you will need to collect the following information from each delegate in order to assign tickets during the registration process:
Select a CoP session

CoP - Leadership and Strategy
CoP - Programming and Program Management
CoP - Marketing and Student Service Administration
CoP - Online Learning and Instructional Design

Select your social events

Manitoba mingle
The Leaf (departure time is tentatively set for 6:30)
Yuk Yuks at the Fort Garry Hotel

Select the meals you plan to attend

Awards Luncheon (May 17)
Lunch to go (May 19)

Do you have any dietary restrictions?

No Restrictions
Vegetarian
Pescatarian
Vegan
No Pork
Gluten Sensitive
Lactose Sensitive
Nut Allergy
Allergies (please list below)

Please let us know of any additional allergies or dietary restriction you have or enter N/A.
Is this your first CAUCE conference?

Yes
No
First in-person conference

How did you hear about CAUCE 2023?

I am a CAUCE member
I am a previous CAUCE conference attendee
Colleague/CAUCE Member
Email
Academica Top Ten
Sponsorship opportunity

I hereby give permission for CAUCE to release my contact information (name and email address) to conference attendees when requested.

Yes
No
Ticket types
Full conference registration includes all of the following conference elements. You do not need to purchase a ticket for the social events on May 17 & 18 or the Awards luncheon on May 17.
Two keynote speaker presentations
Communities of Practice dialogues
A choice of 42 concurrent sessions
All coffee/networking breaks
Opening reception on May 16
Breakfast (May 17, 18, & 19)
Awards luncheon (May 17)
Manitoba Mingle (May 17)
Hospitality Suite (May 17)
Yuk Yuks OR The Leaf (May 18)
Invitation to CAUCE 2024 and Lunch (May 19)
One-day registration includes all events for that day.
Wednesday, May 17 ticket includes:
Breakfast and all breaks
Two (2) concurrent sessions
Keynote Speaker – Kevin Chief
Community of Practice Dialogue Session of choice
Awards Luncheon S
ponsor meet and greet
Manitoba Mingle
Thursday, May 18th ticket includes:
Breakfast and all breaks
Four (4) concurrent sessions
Community of Practice Panel Session
Choice of evening social event

Yuk Yuks Comedy Club, or 
The Leaf at Assiniboine Park Hospitality Suite
This fee category is not a full conference registration; it is for a delegate's guest only.
Our guest program provides an ideal opportunity for your guest to explore Winnipeg and the conference's social functions and keynote sessions with you. Your guest is invited to attend our Discover Winnipeg (Winnipeg 101 session) to learn about all the fun things to do while you are attending the conference.
This option is for guests of full-conference registered attendees only. University of Manitoba employees, volunteers, and presenters are not eligible to register under this category.
Delegate guest conference registration includes:
Opening Reception
Discover Winnipeg Presentation
Two keynote speakers
Hospitality suite (May 17)
This ticket option is for guests of a registered delegate and is an add-on to a full conference ticket.
Award luncheon tickets include:
Award luncheon on April 17
This ticket is for guests of full-conference attendees and is an add-on to a delegate guest ticket.
The social ticket includes two events:
May 17 - Manitoba Mingle


Join us for a Manitoba themed casual evening featuring some local entertainment. 

Connect and mingle with your colleagues while enjoying some local beverages and snacks.



May 18 - Your choice of:

Yuk Yuks Comedy Club - Yuk Yuk's is Canada's national stand-up comedy company, with clubs from coast to coast. Comedian Mike Dambra is on the show calendar on May 18th. 


Note: Yuk Yuk shows are not censored. 

Discretion is strongly advised. 

Neither 

CAUCE nor the University of Manitoba is responsible for the comedian's material at the Yuk Yuk's comedy club. This show may contain course or X-rated language and material.

The Leaf is an indoor horticultural attraction at Assiniboine Park where visitors will journey through four distinct biomes; the Hartley and Heather Richardson Tropical Biome, Mediterranean Biome, Babs Asper Display House, and the Shirley Richardson Butterfly Garden. Experience a stunning showcase of our diversity, expressed through plants that shape our lives here and across the globe. 
This ticket does NOT include the Canadian Museum for Human Rights guided tour.
Pre-Conference Event
| | |
| --- | --- |
| | All conference delegates |
| The Canadian Museum for Human Rights tour (May 16) | $19.05 |
Fees are subject to GST. The last date for online registration is May 10, 2023. Tickets to the Canadian Museum of Human Rights tour may be canceled before May 1, 2023 for a full refund, less a $5 admin fee. Refunds will not be issued after May 1, 2023.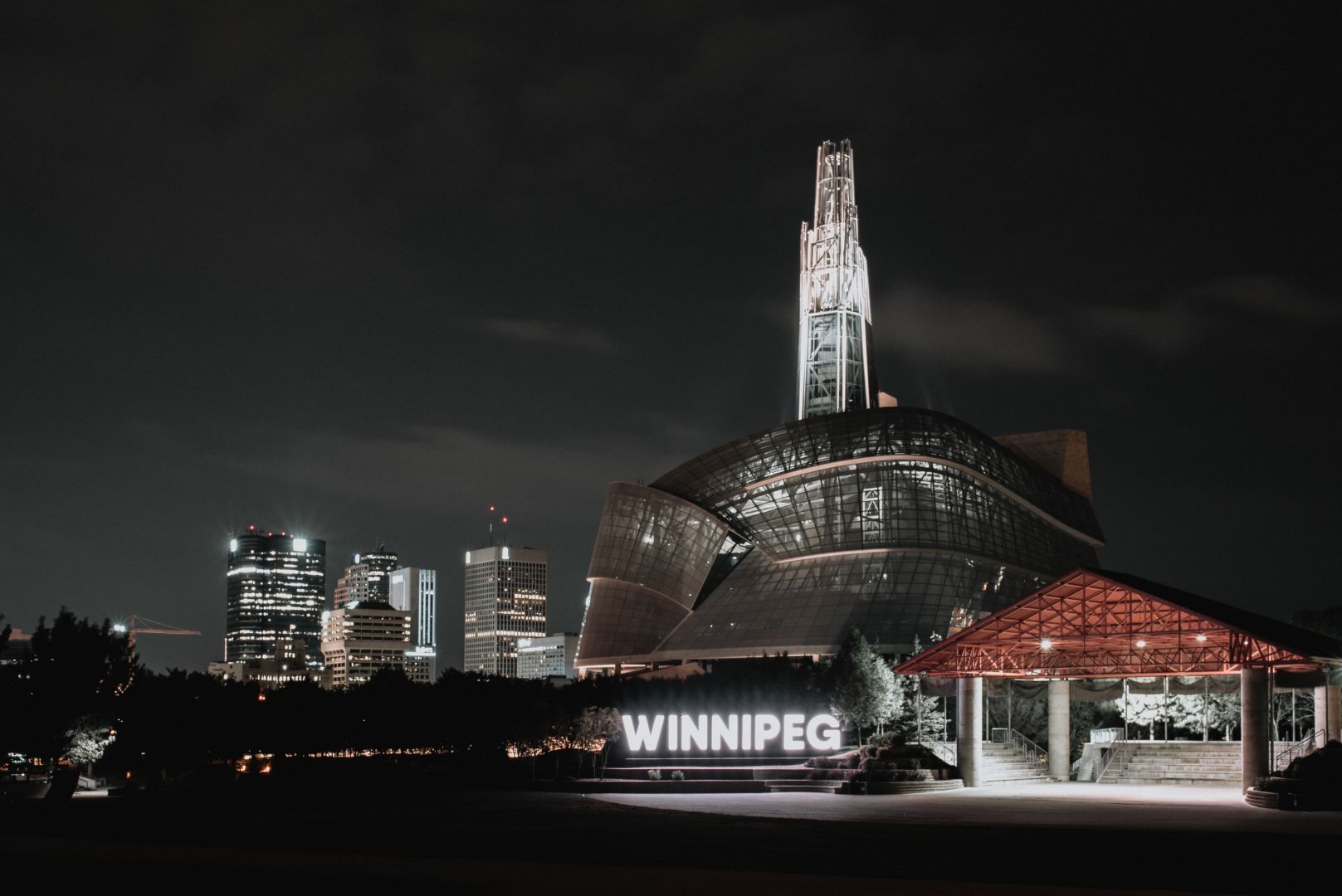 Maximize your networking opportunities and register for our pre-conference event. The Canadian Museum for Human Rights is the first museum solely dedicated to the evolution, celebration and future of human rights. You will receive a 15-minute guided walk from The Fort Garry Hotel to the museum and a 90-minute museum tour. 
Explore the Galleries Tour 
Take a unique journey through a selection of galleries and exhibits that connect you with compelling human right stories from across Canada and around the world. On this tour, you will learn what the Museum is all about. Your knowledgeable guide will invite thought and discussion as you wind your way through stunning architecture and interactive exhibits.
Be sure to plan your travel to Winnipeg so that a you can attend this amazing tour.
CAUCE members can register through the
events tab
in Member365.
Payment and policy
Payment Options:
Credit Card – Visa, Mastercard, American Express.
CAUCE members may request an invoice and pay by cheque or wire transfer.
Payment for registration fees will be accepted by cheque, EFT, or by credit card. Cheques and EFT must be received by CAUCE by May 5, 2023, at the latest or your registration will be cancelled. All credit card transactions will be processed through a secure server, in Canadian dollars, and are subject to current exchange rates. Your payment receipt will follow by email along with a confirmation of registration email (two messages).

If you wish to cancel your registration, you will receive a full refund less a $100 administration fee provided you give notice by May 1, 2023. Refunds will not be issued after May 1. 
Group rate tickets are non-refundable; however, individual tickets within the group purchase are transferable.
The extra delegate guest, social events, and award luncheon tickets may be canceled before March 31, 2023 for a full refund. Please contact the Secretariat BEFORE you cancel this ticket after April 1st to receive a refund. Refunds will not be issued on these additional tickets after May 10.
Register now!
Early-bird pricing extended to April 12th!
Register before April 5, 2023 to take advantage of the early-bird rates. The last date for online registration is May 10, 2023.
To determine your institution or organization is a member, or to apply for membership, visit our website. 
Every Canadian university or college in good standing with Universities Canada is eligible for Institutional membership. In addition, we offer Affiliate (Organization, $270/year) and Professional (Individual, $130/year) memberships. 
Not a member? Apply today!